How to Start, Build, and Run an IME (Independent Medical Examination) Practice
Performing IMEs (Independent Medical Examinations) on behalf of insurance companies and attorneys is a great way to both earn additional income and diversify your practice.
Independent Medical Evaluation work involves examining injured workers in workers' compensation and personal injury cases and issuing a written report on your findings.
Exam fees average $600-$1000 and are often much higher than this.  Physicians routinely do multiple exams in one day, so the earning potential is enormous.
IMEs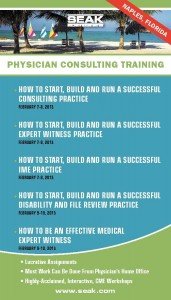 can be done on your schedule, with minimal additional overhead, no call, and without disrupting your current practice. Many physicians continue to do IMEs even after they stop seeing patients clinically.
Please see our IME Training website for various IME resources.
We will show you how to get started and how to quickly build a sustainable, lucrative IME practice.
For more information click the link above or call 508-457-1111