SEAK, Inc. is available to train medical malpractice defendants in developing and improving testifying skills. Our medical malpractice witness preparation trains medical witnesses for key depositions, hearings, and trial testimony, and shows medical malpractice defendants how to become active members of the defense team. 
SEAK provides one-on-one malpractice witness preparation for a medical malpractice defendant desiring the highest level of individual attention. We are available to be retained by malpractice insurers, individual medical malpractice defendants, and law firms to train and prepare medical malpractice defendant witnesses in cases involving issues such as delayed diagnosis and bad outcomes.
Our services include;
Testimony preparation for your upcoming deposition, hearing, or trial;
Mock direct and cross examinations with feedback;
Review and critique of past testimony (from provided transcripts);
Training on how to be a more effective witness in describing your medical credentials, training, experience, and practice;
Training on how to effectively present, explain and defend the medical care you provided, including standard of care issues;
Training on how to be a more effective witness in your own defense at deposition and trial; and
Training on how to make a favorable impression in front of a jury.
ON-SITE CUSTOMIZED TRAINING
SEAK is available to provide on-site customized training to medical group practices, medical societies, and medical professional organizations.
Our training provides the skills and tools needed to give our attendees the best chance to successfully defend an accusation of medical malpractice, including:
What to expect in the life of a medical malpractice case;
How to be an effective testifying witness;
How to properly present medical qualifications;
How to effectively answer direct examination questions;
Strategies for overcoming attorney cross-examination tactics; and
Ways medical malpractice defendants can actively assist in their own defense.
Malpractice Survival Training for Physicians  provides essential training for any physician who is currently being sued or is at risk for being sued over the course of his or her career.  Content covered in this essential streaming course includes:
How to be a more effective witness in your own defense at deposition and trial
How to best work with and assist your defense counsel
How to avoid getting sued
How to make a favorable impression on the jury
How to understand and enforce your rights under liability insurance policies
Settlement considerations
How to avoid common mistakes that can sink your case
How to avoid or minimize damage to your reputation
Training Time Frame and Costs
The scope and cost of the training depends upon your needs and budget.
SEAK's one-on-one malpractice witness training can be provided over the telephone, remotely, or in-person at a mutually agreed upon location such as your office or at SEAK's offices in Massachusetts. If you have any questions, please contact Attorney Nadine Nasser Donovan at nadine@seak.com or (617) 791-4282.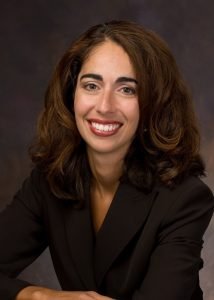 ABOUT THE TRAINING LEADER
Nadine Nasser Donovan, Esq.
Nadine Nasser Donovan, Esq., is SEAK's  Lead Trainer and has personally provided testifying training to thousands of medical professionals, including medical defendants. She is a former named partner in a Boston medical malpractice defense firm, and has 18 years' experience as a medical malpractice defense attorney in the Boston area. Nadine is SEAK's Medical Malpractice Practice Leader, where she has developed multiple specialized medical malpractice testifying training programs for physicians, and has provided lectures to medical students, residents, and in grand rounds. Nadine is the co-author of the SEAK texts, How to Be An Effective Expert Witness at Deposition and Trial:  The SEAK Guide To Testifying As An Expert Witness,  How to Write an Expert Witness Report and How to Be A Successful Expert Witness:  SEAK's A-Z Guide to Expert Witnessing.
In addition to her work consulting and teaching for SEAK, Nadine is a Legal Writing Instructor at Boston University School of Law, and a former Adjunct Professor at New England School of Law, Boston, where she teaches in the areas of medical malpractice and hospital law.  Nadine also serves as a Dispute Resolution Arbitrator for the Financial Industry Regulatory Authority.
Nadine previously practiced litigation for 21 years.  She spent 18 years in the defense of medical professionals in medical malpractice actions and before medical licensing boards. In addition, Nadine began her litigation career in New York City, first as a prosecutor in Queens, then as counsel for the City of New York.  Nadine received her J.D. cum laude from Boston College Law School. She graduated from Fordham University summa cum laude with a B.A. in French Literature.  She can be reached at nadine@seak.com or at 617-791-4282.
What Our Clients Have To Say
"I wouldn't have survived [my defendant deposition] without your support.  Our session really made a difference for me."
"Thank you so much for all your help in this matter. My lawyer said that my trial testimony went great. The jury came back with a defense verdict in less than 2 hours!!
"Nadine, we won a defense verdict today.  The jury deliberated for 45 minutes and came back 8-0 for us!  Nadine, your help was very essential for me–without your training and expertise, I would not have been able to "see" the questions and use the visual aids.  Without your help, I would've been lost.  You are phenomenal and I can't thank you enough!"
"Depositions went well on Friday.  Both [medical malpractice] defendants felt very well prepared.  Thanks for your help.  Both of my clients found working with you to be very valuable."
"My depo went great. The attorney said great job. He was so pleased and I was thrilled how it went. You prepping over the last few months for these depo's has really built up my self confidence. Thanks Nadine a million times over. I think you are very tough and that's what makes me strong!!!!!"
"[My Deposition] went great, fabulous. I am so excited. It was a wonderful prep not only for this case however for all my other cases. I certainly went in with confidence, [Retaining Counsel] said, OK drum roll "You are the best presenting expert I have ever seen". I was all smiles. I will still stay humble and that does not go to my head although it did feel good.  So this was all worth it and I am so happy I did this with you. Thank you so very much Nadine. I love working with you."
"My session with you was most helpful in preparing me for meeting with defendant's counsel as well as the deposition. Given many of the issues you brought up, I was able to request additional documentation and discuss specific elements with counsel to gain more comfort in statements I had made either in the report or in response to your questions. Additionally, to be perfectly honest, it was often less stressful and intimidating to respond to the deposing attorney's questions than it was to yours!"
"Thank you again for all of your help. If we had gone forward, we were in the best position possible because of you."
All [our insureds who have worked with Nadine] have expressed their increased confidence after the meetings. We really appreciate all of Nadine's help.  –Insurance Claims Representative
Your input and ..focused [advice] for [defendant doctor] are extremely helpful.  –Medical Malpractice Defense Attorney
Thanks so much for assisting with [defendant doctor's] trial preparation.  She would not have been nearly as awesome were it not for your input.  –Med Mal Defense Attorney
Nadine, you were very helpful in preparing me for my trial testimony.  My lawyer says I did great!  —Medical Malpractice Defendant