Independent Medical Examiner Resources
SEAK, Inc. has been the serving needs of independent medical examiners since 1993. We offer intensive interactive training for independent medical examiners in the areas of conducting the examination, rating impairment, drafting IME reports, defending opinions at deposition and trial, IME practice management, and IME practice development. SEAK's National Directory of Independent Medical Examiners was established in 1998 and is the simple and cost-effective way to promote a provider's IME practice.
SEAK is the publisher of the seminal text on Writing and Defending an IME Report, as well as videos and other practice aids to assist independent medical examiners. SEAK works one on one with independent medical examiners to assist them in expanding their practices.
Seminars Available On DVD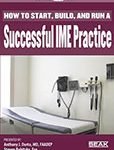 How to Start, Build and Run a Successful IME Practice-(7 DVD Set)
This is SEAK's highly acclaimed training seminar on IMEs. Performing Independent Medical Examinations (IMEs) is a great way to both earn additional income and diversity your practice. The earning potential is enormous.  Exam fees average $800-$1,500 and are often much higher than this. Physicians routinely do multiple exams in one day. IMEs can be done on your schedule, with minimal additional overhead, no call, and without disrupting your current practice.
IME Skills for Physicians: The Master's Program 7-DVD Set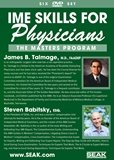 Recorded at a live workshop, this is the most advanced training available on Independent Medical Evaluations (IMEs) and is now available as a DVD set. Physicians completing these intensive two days of training will raise the level of their IME work product, produce more valuable and defensible reports, and become "go-to" evaluators sought after by insurers, attorneys, brokers,and other clients.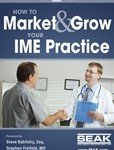 How To Market & Grow Your IME Practice 10-DVD Set


This is the most advanced training available on IME Marketing.  How to Market and Grow Your IME Practice is designed for both IME physicians and their employees who are tasked with practice development.  You will learn how to professionally and cost-effectively market your IME practice and services and how to build a lucrative practice that will stand the test of time. Videotaped at a live workshop.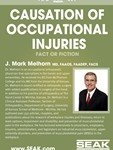 Causation of Occupational Injuries:  Fact or Fiction 2-DVD Set


This DVD set is for anyone who is involved with workers' compensation and occupational health.  Every new workers' compensation case involves the determination of causation.  The evidence based science of causation has been difficult to assemble.  This course brings together the science of causation, the law, and the daily application of both.