How to Write an IME Report
Drafting an IME report presents numerous challenges.  The biggest challenge of course is that the IME report is likely to be part of a contested claim and may be aggressively challenged by claimant's counsel.  A good outline for how to draft an IME report (i.e. IME report template) is as follows:
Introduction and Executive Summary
Background Information
Qualifications of the IME Physician
Disclosure of Medical Records Reviewed
History of Examinee
Physical Examination
Opinions (Including Answers to Specific Questions Posed by Referral Source)
Disclaimers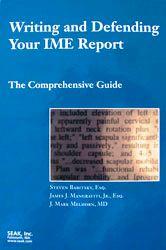 The text Writing and Defending Your IME Report: The Comprehensive Guide is recommended to any physician faced with writing an IME report.