Expert Witness Top 5 Ways To Get The Most From Your Expert Witness Directory Listings
By Alex Babitsky, MBA
SEAK, Inc.
www.seak.com
1) Track, track, track your referrals. This can't be emphasized enough. The only way to effectively evaluate the performance of your marketing is to have a reliable way to track where your referrals are coming from. Your staff should have a formal intake process where they ask each new client how they found your name. Was it from a directory listing, if so which one? Maybe the attorney came across an article you wrote, if so which one? Maybe you spoke at a conference or meeting, if so which one? Was it from your website? Maybe it was word of mouth? The only way to know for sure is to ask. You should also have a way to track new cases, so you can go back every few months and see what is working for you, and what is not. You may want to increase the marketing channel that is working better for you. If speaking is generating more referrals for you than writing articles, than you may want to do more speaking and spend less time writing. Many expert witnesses do not do this effectively. Until you do, you really don't have a clear picture of where your referrals are coming from.
2) Understand how expert witness directories work. This sounds like a basic principle, however each directory is different. To get the most from your directory listings, you need to truly understand how they are set up and are used. Are the attorneys able to search by keyword? If so, what section of your listing is it searching? Is there an index? If so, how many terms are you indexed under? What is the circulation of the directory? Is it national or regional? Do the attorneys have to pay for a copy or is it available to them for free? Some expert directories are only available online, some are available as a printed version and some are both printed directories and online databases. If it's a printed version, ask to receive a copy so you can take a look at it. You will get the most bang-for-your-buck, when you fully understand how it is used. Any directory worth its salt will have someone answer any questions you may have about the directory and walk you through the application. Keep in mind that they also want your listing to be as successful as possible. If it is successful, then you are more likely to continue listing in their directory.
3) List in multiple expert witness directories. Expert witnesses on average earn approximately $350 per hour assisting lawyers. With that much money on the table, and directory listings generally being relatively inexpensive (usually a few hundred dollars), it makes sense to list in multiple credible expert directories. Do your homework first and ask some questions. Directories are a cost effective, efficient way of marketing your forensic practice. Most directory applications can be completed within 15-20 minutes. I would suggest listing in at least 5 directories and try them out for a year or two and see what type of response you get. If after 2-years you don't at least break-even with the amount you paid to be listed in the directory, than you may want to discontinue that listing. However, don't give up completely on them. Check back in with them after a few years to see if anything has changed, such as; increased circulation, increased web presence, partnerships formed, etc. All of these factors can significantly impact the effectiveness of a directory, and can change rapidly.
4) Keep your information up to date. We come across many expert witness directory listings that have outdated or incorrect contact information. Nothing is worse than when an attorney contacts us and informs us that they are looking to hire one of our experts, except the expert's phone number is disconnected. You can bet that an attorney is not going to take the time to try and track down your new number. Instead they will pick up the phone and call one of your colleagues and give the business to them. When you move or change your contact information (phone, fax, email, address, etc.,) it's important that you notify each expert directory and service that you're listed with and update it as soon as you have the new information.
5) If you have a website make sure that the expert directory you are listed in is linked to it. This is an easy way to increase the amount of incoming links to your website. This is part of search engine optimization and should actually help the positioning of your website in the search engines. The more popular your site is, the higher you will bring your website in the searches. Having links that come from expert directories are very valuable, they are themselves highly ranked and have content relevant to your own information.
About the author Alex Babitsky, MBA is a Partner at SEAK, Inc. As the Product Manager of SEAK's National Expert Witness Directory, Medical File Review Consultants Directory and the National Directory of Independent Medical Examiners, Mr. Babitsky deals with expert witnesses and the attorneys, paralegals, insurance companies and other organizations who retain them on a daily basis. Mr. Babitsky consults regularly with experts of all fields on the subject of expert witness marketing. His publications include the 2004 National Guide to Expert Witness Fees and Billing Procedures, The A to Z Guide to Expert Witnessing, The 2009 National Guide to Expert Witness Fees and Billing Procedures, and What All Physicians Considering Starting an IME Practice Should Know. Mr. Babitsky received his BS degree from the University of Massachusetts and his MBA from Northeastern University. Alex can be reached at alex@seak.com.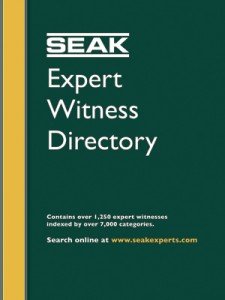 Click here for SEAK's Expert Witness Directory