Excerpted from The Biggest Legal Mistakes Physicians Make: And How to Avoid Them
Edited by Steven Babitsky, Esq. and James J. Mangraviti, Esq. (©2005 SEAK, Inc.)
Download Free 646 Page E-book: The Biggest Legal Mistakes Physicians Make and How to Avoid Them
Executive Summary
The United States has both a critical physician shortage and one of the most advanced health care systems in the world. Those two factors, plus the traditional attractions the country has to offer, make the United States one of the top destinations for the world's best medical school graduates. But even though the country is not producing enough physicians and even though it will take decades to reach the needed number of home-grown physicians, the U.S. immigration system makes it difficult for international physicians to come to the United States to work. To do so, most international physicians must first secure a visa to work in a residency or a fellowship training program. In fact, more than 25% of the physicians now training in residency and fellowship programs are international medical graduates. Next, these physicians typically need to secure a work visa to remain in the United States and go into private practice or other work opportunities. Securing first the visa to train in the United States and then the visa to work in the country are difficult tasks, and there are many pitfalls along the way that stifle a physician's aspirations to train and practice in the United States.
Mistake 1        Choosing the Wrong Visa to Come for Medical Training
Most physicians seeking to enter the United States to practice medicine must initially engage in training before they can move into private, academic, or other clinically oriented practice areas. This is largely because licensing requirements in each state require training in the United States, and without a license, a visa is not an option. For the vast majority of international physicians, the first step to coming to the United States involves getting accepted into a residency or a fellowship program. (The American Medical Association has excellent information on this topic on its Web site at http://www.ama-assn.org/ama/
pub/category/1554.html. Information is also available at the Web site of the Educational Commission on Foreign Medical Graduates, at www.ecfmg.org. ECFMG is the sole sponsor of physicians coming to the United States for graduate medical training, and plays a role in both the J-1 and H-1B visa process.)
Physicians seeking to enter the United States to engage in graduate medical training can normally enter on either an H-1B or a J-1 nonimmigrant visa. The vast majority (about 90%) enter the country with J-1 exchange visitor visas in a J-1 category specifically carved out for graduate medical training. Most enter on the J-1 visa because that is what they are told they need by their training programs. But that is largely because administratively, programs find it easier to bring physicians over on J-1 visas, since the heavy lifting is done by the ECFMG, the sole sponsor of all J-1 physicians in clinical training. For the last 30 years, physicians entering the country on J-1 visas have had to comply with Section 212(e) of the Immigration and Nationality Act (INA), which requires that J-1 applicants entering the United States to engage in graduate medical training in a clinical setting return to their home country or country of last residence for a period of two years. Physicians can seek a waiver of this requirement, but the process is arduous.
From the point of view of the doctor, the H-1B is usually the visa of choice if the goal is to eventually settle in the United States. The avoidance of the home residency requirement under INA Section 212(e) cannot be overstated for many doctors, particularly those pursuing career paths that do not easily lend themselves to a waiver strategy. But obtaining an H-1B visa is not always easy, and even getting H-1B status is not free from problems. For example, H-1Bs are available for only six years, and some training programs last longer than that. Also, there is an annual limit on the number of H-1B visas, and a program that is not exempt from the annual limit may be unable to secure a visa in a timely manner.
Action Step     International physicians and their immigration attorney should carefully consider their long-term goals when choosing a training visa. While the training program may dictate the choice of a visa category, many will defer to the request of the doctor.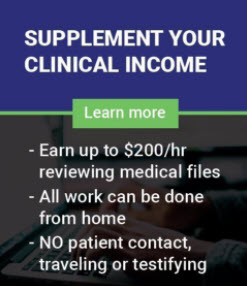 Mistake 2        Failing to Take All Three Steps of the U.S. Medical Licensing Examination
To qualify for an H-1B visa, a physician must normally pass Step 3 of the U.S. Medical Licensing Examination (USMLE). Unfortunately, some international physicians, mostly Canadians, do not take the examination because state licensing boards will often recognize the Canadian credentials and not require Step 3 of the USMLE. Physicians can enter a training program in the United States having passed just the first two steps. In these cases, the U.S. immigration requirements are stricter than the state licensing requirements, and a physician will likely be denied an H-1B visa for not having the credentials. And since most J-1 waiver programs require physicians to work three years on an H-1B visa following the waiver of the J-1 home residency requirement, not being able to secure an H-1B visa can be a serious problem.
Action Step     Physicians should not skip taking Step 3 of the USMLE.
Mistake 3        Failing to Take a Visitor Visa Application Seriously
To enter the United States on either a J-1 or an H-1B visa, a physician initially needs to enter the country on a visitor visa in order to take certain credentialing examinations available only in the United States. A physician entering on a J-1 visa must first enter on B-1 visitor status to take the USMLE Step 2 clinical skills examination. This battery of clinical assessments is offered only a few times a year in five U.S. cities. For the H-1B visa, physicians must enter the country on B-1 visitor status to take USMLE Step 3.
Unfortunately, many physicians assume, often erroneously, that getting a visitor visa to come to the United States to take the examination will be easy. Visas can be delayed due to security clearances, and they are often denied because applicants fail to document that they have the funds to support themselves on their trip and that they are not likely to overstay their visa.
Action Step     Physicians should file for a visitor visa several months before their trip if possible. They should thoroughly document their application and include with it a copy of their round-trip plane ticket showing that the trip is for only as long as necessary to take the examination and leave the country. Applicants should show that they are returning to a job by presenting a letter from an employer documenting leave time. They should present evidence to show they have the funds to cover the costs of the trip. The documentation of registration for the examination should also be presented. Married applicants should apply for a visa only for themselves, not their spouse, since consular officers are then more likely to believe that the applicants will return home because their spouse has remained there. Also, any other evidence showing that the applicant is likely to return to the home country when the exam is completed will be helpful. Finally, it is sometimes helpful to have a lawyer prepare a cover letter explaining why the applicant should be approved. In fact, merely having a lawyer can be helpful in showing that a physician applicant is serious about complying with visa rules.
Mistake 4        Not Looking for a Job Soon Enough Before Completing Medical Training
To qualify for a J-1 waiver, physicians typically need to find a job in a physician shortage area, the job needs to be with an employer that has recruited extensively for the job, the state has to have a waiver program with slots available or a federal program needs to be available in the area, and the employer has to be willing to go through all of the paperwork necessary to get the physician working. Despite the physician shortage, finding an employer willing to go through all of this is not easy. Physicians who wait too long may find that they are unable to secure a job prior to completing their training. And then even if they find a job, they have not allowed enough time to avoid a gap in the ability to work without disruption.
Action Step     Physicians should begin their job search early in order to have the time to get a J-1 waiver and an H-1B visa. Ideally, they should allow at least a year to get the paperwork processed.
Mistake 5        Picking the Wrong Employer
Switching employers after a J-1 waiver is granted is very difficult. The U.S. State Department will adjudicate a waiver only once; after that, only the U.S. Citizenship and Immigration Services (USCIS) has the authority to approve a change of employers. The position of the USCIS is that the proper way to file to change employers is to file for an H-1B change-of-status application. The application must include evidence that the physician will serve the balance of his or her three-year commitment in an underserved area and that there are exceptional circumstances justifying the change (e.g., a serious breach of contract by the employer, the shutdown of a facility, or something of similar magnitude). Merely being unhappy in the community or finding a better opportunity elsewhere is not enough.
Action Step     Physicians should make sure the employer chosen is one they are willing to remain with for three years and that they thoroughly review their contract before signing it.
Mistake 6        Failing to Pay Attention to the H-1B Cap
Physicians who choose to remain in the United States after completing their residency training will need to plan on filing to change their status to an H-1B work visa. Physicians who are training on a J-1 visa will likely need a J-1 waiver and then switch to H-1B status. Physicians who used an H-1B visa for residency or fellowship training will need to file an H-1B change of employer application. In either case, the availability of an H-1B visa is crucial.
On October 1, 2003, the number of H-1B visas available each year dropped from nearly 200,000 to 65,000 each year. That means that many physicians will not be able to secure a visa when needed and will need to wait for a new quota to become available when a new fiscal year begins each October. Many will be fortunate enough to find a position that is exempt from the H-1B cap. University and nonprofit research institution employers are exempt from the cap, as are other nonprofit organizations affiliated with or related to a university or nonprofit research employer. Also, the USCIS is continuing to treat Conrad 30 waiver positions as exempt from the cap even though arguably that exemption from the cap expired on September 30, 2003.
Congress has been considering legislation to expand H-1B cap exemptions for physicians, but nothing concrete has yet occurred. And physicians need to be reminded that the exemption from the cap is tied to an employer: Physicians who switch from an exempt employer to an employer subject to the H-1B cap again have to have a visa number available. This is particularly a problem for physicians in residency training on an H-1B visa at an exempt hospital. Their programs end in July and if there are no H-1B visas available, they can very well find that they are not able to start their next job until October.
J-1 waivers can take a long time to process. In addition, available slots in the popular Conrad state 30 program can run out quickly, which can mean that the waiver process can easily take more than six months and added to that is the time it can take to process an H-1B application. The H-1B category also has a quota, so physicians may find that they are stuck waiting many more months.
Action Step     H-1B applications can be filed up to six months before a job's start date. Physicians should file as early as possible, and consider positions at a cap-exempt employer if the H-1B quota is seriously oversubscribed.
Mistake 7        Not Getting an Immigration Lawyer Involved Early in the Job Search
J-1 waiver positions can be difficult to find. But what can be even more frustrating is to go through the interview process and move forward with filing for the waiver only to learn that the position does not qualify for a waiver. There are 49 Conrad 30 physician waiver programs and four federal programs. Each program's rules are different, and it is easy for someone not fully focused on physician immigration laws to get confused.
Action Step     Physicians should discuss physician waiver strategies with an immigration lawyer at an early stage. An immigration lawyer can help to screen positions to determine if the job qualifies and can also review contracts to ensure that they comply with immigration laws.
Mistake 8        Failing to Consider Alternative Waiver Strategies
Many physicians do not realize that the J-1 home residency requirement does not bar them from receiving a nonimmigrant visa without a waiver. They are simply barred from changing from a J-1 to another category within the United States, getting an H-1B visa at a U.S. consulate, or getting permanent residency. But a physician can go to a U.S. consulate abroad and seek other visas aside from the H-1B. The O-1 visa is available for high-caliber physicians demonstrating extraordinary ability in their field. The TN visa is available to Canadian and Mexican doctors coming to work in nonclinical positions. The E-2 visa is available to physicians investing money in setting up a physician practice.
Action Step     If physicians find that a J-1 waiver is an option, they should consider alternative visa options.
Mistake 9        Choosing the Wrong Green Card Category
Two major green card strategies are available to physicians. One is the Physician National Interest Waiver, which is available to physicians who agree to serve five years in primary care in a physician shortage area. The regulations surrounding what was supposed to be a straightforward program to encourage physicians to serve long stretches in underserved communities have turned out to be very complicated. The second strategy is the labor certification. Labor certification-based cases require an employer to show that it has been unable to recruit a U.S. or permanent resident physician with the minimum qualifications who is immediately available to fill a job. Given the severity of the physician shortage in the United States, these cases have a high approval rate. The key problem has typically been the length of the labor certification process. In late 2004, the U.S. Department of Labor is expected to introduce an electronic filing system for labor certifications that should dramatically speed up the process. There are some advantages to National Interest Waivers over labor certifications. Spouses can get work authorization documents right away, for example. And the overall processing time on these cases is usually quite a bit faster than the
labor certification (this advantage will likely diminish when electronic filing for labor certifications becomes available).
Action Step     Physicians should evaluate their priorities (e.g., getting their green card processed quickly, moving out of an underserved area) when determining a green card strategy. They should also remember that they can pursue more than one green card strategy at the same time (although doing so is more expensive).
Mistake 10      Taking a Bad Job (or No Job) Instead of Complying with the J-1 Home Residency Requirement
Many physicians mistakenly believe that if they leave the United States when they complete their home residency requirement, they will have little chance of getting back into the country to work. As a result, physicians will often accept terrible jobs simply to avoid having to leave the country. However, by going home for two years, physicians will be eligible to secure an H-1B visa to work in any kind of position and not just in a shortage area. Given the state of the U.S. physician market, U.S.-trained doctors who can quickly secure a visa to work in any kind of clinical setting are still hot commodities even if they are not currently in the United States.
Action Step     If physicians cannot find the right job and their home country has opportunities, they should consider going home, satisfying the home residency requirement, and then returning to the United States on an unrestricted H-1B visa that allows for working in any area and not just a shortage area.
Conclusion
Foreign physicians looking to train or work in the United States should seek to avoid the mistakes discussed in this section.
 Written by: Gregory Siskind, Esq. 
Peer reviewed by: Arda Beskardes, Esq.